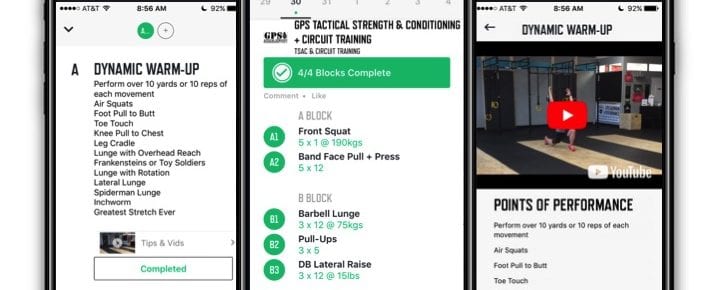 Online Training Program COMING JAN 2018!!!
The GPS Human Performance online training program will be delivered by TrainHeroic, the premiere performance app. Our programming with video exercise instruction and workout tracking will be right in the palm of your hand.
We understand the demand for high quality training programs for the Tactical Athlete with the flexibility to complete workouts at home or in one of the gyms available on base. As a result, the guess work of what to do in the gym are over. Gone are the days of doing push-ups, sit-ups, running and rucking. So stop wasting your time and start maximizing it. Following the program designed by a professional who has trained elite level soldiers for nearly a decade.
The GPS Tactical Strength & Conditioning Program is an all-inclusive approach to training with the Tactical Athlete at the heart of it. Thus, the program will promote strength, power, endurance, mobility, flexibility, agility and function. All while preventing injuries and creating more resilient soldiers. CLICK HERE to learn more!
GPS Human Performance's online training program starts at $20/Month. If you have any questions in please let us know… geoff@gpshumanperformance.com

Geoffrey Steinbacher is a former Strength & Conditioning Coach within the THOR3 (Tactical Human Optimization Rapid Rehabilitation & Reconditioning) Program at Ft. Bragg. He is a Certified Strength and Conditioning Specialist (CSCS) from the National Strength and Conditioning Association. As well as a Certified Athletic Trainer (ATC) from the National Athletic Trainers Association. On top of being an Advanced Sports Performance Coach (USAW-L2) and Head Club Coach with USA-Weightlifting. He also is a Catalyst Athletics Certified Weightlifting Coach (CACWC-L1) and a CrossFit Level 1 (CF-L1) Trainer. Furthermore, Geoff has a BS in Athletic Training from SUNY Cortland and a MS in Exercise Science from Syracuse University.